Product photo


Arm photo
 

Parts photo
Brochure

Video

Rigid float tone arm demo video.

Instruction video(Germany language)
Feature and Spec
【Features】
・OIL FLOATED PIVOT
The ViV lab.' s original OIL FLOATED PIVOT not only gives perfect bearing performance but also insulates the arm pipe from the vibration via floor or turntable. At the same time, this pivot shuts out the reflection of vibration generated by the stylus. As the result, the sound has highest purity with dinamics, sharp focus and very low distortion. We are sure no one has ever experiensed such a sound from vinyl disks.
・NO OFFSET-ANGLE STRUCTURE
We believe that elbowed shaped arm with offset angle and overhang setting affect seriously to the sound quality because of side force fluctuation, which can never be canceled by anti-skating machanism. So we dare to choose completely straight (i.e. NO OFFSET-ANGLE) structure. You may ask "What about tracking error?" , and the answer is, "The tracking error is a little bigger, but the sound is much better." You can hear no distortion even with 7" model.
・EASY INSTALLATION
Not like other tonearms, "Rigid Float/H" is very easy to install. You do not have to drill your turntable plinth nor lift up so heavy turntable, just put it anywhere on your turntable plinth. You can also put it outside the plinth of your turntable.
【Specs】
・Silk jacketed 4N silver inner wire and rhodium plated terminals ensure minimum signal loss.

・2 color variations (Black Metallic, Black&Gold) and 3 length variations (7" , 9" , 13" ) are available.

・Azimuth adjustable.

Instruction manual and Drawings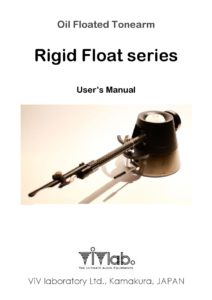 Rigid float tone arm instruction manual